Recently the WWE released a DVD chronicling what they believe to be their to 50 superstars of all time. They say that the list was created by the current roster of WWE superstars. I am pretty sure when they released this DVD they did so to stir up some controversy. There is no possible way that Hulk Hogan can be the 24th or Ric Flair be tied for 17th. Now I know because them being TNA you don't want to put them too over but real is real these are the top 2 superstars of all time. So I decided to compile a top ten list just because I don't have enough time to do a top 50. These are the best wrestlers that I saw in the ring and on the microphone. The reason you may not see greats like Gorgeous George, Lou Thez or Bruno Sanmartino is because I never really watched these guys because I am too young. Being born in 1979 my wrestling mind starts in the 1980's. I respect the history but this is my list of my time.
10. Chris Jericho – 6 time World Heavyweight Champion, 9-time WWE Intercontinental Champion, 5 time World Tag Team Champion, 9th Triple Crown Champion, 4th Grand Slam Champion


I didn't say my list would not be controversial either. In my opinion Chris Jericho is one of the best wrestlers that I have ever seen. The first ever Undisputed World Champion in the WWE checks in at number 10 on my list. Jericho is one of the last guys around who has traveled the entire world honing his craft.



He was made if work in Mexico, Japan, his native Canada and here in the United States. He was wrestled in ECW (the original), WCW and in the WWE. Winning championships everywhere he has been. He was worked with and fueded with some of the best of all time. Names like Eddie Guerrero, Rey Meysterio and Triple H are on the list for Jericho. Chris also maybe one of the top 5 in mic skills all time. His promos are cutting edge and can trade lines with any superstar in history. He also the lead singer of the band Fozzy who travels all over the world rocking and rolling.



9. Harley Race – 8 time NWA Heavyweight Champion, 1st United States Heavyweight Champion, King of the Ring (1986), WWE Hall of Famer, Professional Wrestling Hall of Famer, Wrestling Observer Newsletter Hall of Famer




One greatest NWA Champions of all-time comes in at my number 9. One thing about the current state of wrestling with everything out in the open it has allowed me to rediscover legends like Harley Race. A man who is known as being legitimately a tough guy. People feared and most definitely respected the great Harley Race.



A lot of people didn't know that Harley started his career as a teenager holding his own fighting against grown men. First hitting it big as Handsome Harley Race with his tag team partner "Pretty Boy" Larry Henning (father of Curt Henning). After that he went on to the NWA where he became 8 time World Heavyweight Champion. This is when the champion traveled all over the world defending the belt in various territories. Most champions only got one reign but they put the strap on Harley 8 times. He was a great ambassador of the World Title. A lot of people think about King Harley Race in the WWE as a part of the Heenan Family. That was only a short part of this distinguished career. He has had classic fueds with names like Dusty Rhodes, Ric Flair and Terry Funk.



8. Triple H – 14 time World Heavyweight Champion, 4 time Intercontinental Champion, King of the Ring(1997), Royal Rumble Winner (2002)




Leader of 2 of the most powerful recent factions D-Generation X and Evolution. Whether you call him The Cerebral Assassin, The Game or King of Kings, you are talking about one of the best ever. During the WWE's Attitude Era one of the most popular stars during that time was Triple H. As the catalyst to D-Generation X he was and still is one of the best in ring performers of all time.
His feuds with Stone Cold Steve Austin and The Rock are legendary. I especially like his feud with the Rock because it went through so many different phases. They fought for the Intercontinental title, to be #1 contender and finally to be World Champ. They both lead competing factions. The also worked as both face and heel against each other at different points in time. As an ever evolving as anybody has ever been in wrestling Triple H stands in good position to break or tie the record for most World titles currently held by Ric Flair at 16 times.
7. Dusty Rhodes – 3 Time World Heavyweight Champion, WCW Television Champion, WWE Hall of Famer


No list is complete without the American Dream Dusty Rhodes. The son of a plumber from Austin, Texas first made it big as one part of the famous Texas Outlaws with Dick Murdoch. One of the biggest stars of wrestling during the territory days, very few could touch Dusty Rhodes.



If Chris Jericho is one of the top 5 talkers of all time then Dusty has to be at the least in the top 2. His promos are as classic as his matches. Dusty is one of wrestling's pre-Hulk Hogan big box office attractions. Selling out arena's all over the country nobody did it like the American Dream. Connecting with the common everyday man but he also partied with your favorite celebrities and Hollywood stars. He has sold Madison Square Garden with great Superstar Billy Graham on a few occassions. He has fueded with great Harley Race whom he won his 1st NWA title from. But Dusty's most famous feud is with Ric Flair and the 4 Horsemen. This may have been the premier fued of the 1980's. Besides his in ring ability, Rhodes maybe one of the greatest minds behind the scenes that the wrestling world has known. Some of his creations such as Starrcade and War Games have left permanent marks on the business.



6. Shawn Michaels – 4 Time World Heavyweight Champion, 3 time Intercontinental Champion, First Ever Grand Slam Champion, 4th Triple Crown Champion, Royal Rumble Winner (1995, 1996), WWE Hall of Famer (2011)




There is only one man who can carry the name Mr. Wrestlemania. Having some of the most memorable matches in Wrestlemania history are only apart of The Heart Break Kid's resume. He is one of the catalyst of the WWE Attitude Era and one of the founding members of D Generation X. You may also remember him as being on half of one of the most innovative tag teams of all time the Rockers with Marty Jannetty.



During HBK's 25 year career he has worn many different hats and worn them all well. Regarded by his peers as one of if not the greatest in ring performer of all time. Whether it is the 60 minute Iron Man match with Bret Hart, The Ladder Match with Razor Ramon or the last 2 matches with The Undertaker at Wrestlemania no one does it like HBK. One thing that he may not get enough credit for is holding the WWE together while they were struggle against WCW in the late 90's. Micheals was the guy at the time and instead of jumping ship he help keep the WWE strong and was one of the pioneers of the Attitude Era. In 1998 Shawn Michaels was force to cut his career short due to a serious back injury or so we thought. In 2002 HBK returned to the WWE stronger than ever. Having an incredible fued with long time friend Triple H. He became an inspiration to people who were looking to make the most of a 2nd chance.
5. Randy "Macho Man" Savage – 10 time World Champion, King of the Ring(1987), 1995 WCW World War 3 Winner


There have few men in the history of professional wrestling that have had the charisma, athleticism and presence of the Macho Man Randy Savage. That style and presence has made him a champion everywhere he has been. He is on of the biggest icons of the 1980's and 90's.



Savage is a 2nd generation wrestler. He is the son of Angelo Poffo a very popular wrestler in the 1950's and 60's who was featured in "Rilpley's Believe or Not" for his ability to do an amazing amount of push-ups and sit ups. The younger Poffo was an very accomplished athlete who spent time as a minor league baseball player. Starting out in the territories working with his brother Lanny Poffo he made a name for himself in the south and middle states. In 1985 he made his way up to the big time in the WWE. During this time he made brought in his manager who became his real life wife Miss Elizabeth. In 1986 Savage became Intercontinental Champion by defeating Tito Santana. He held the title for nearly 14 months. During that time Savage wrestled in to be one of the greatest matches in pro wrestling history when he faced Ricky "The Dragon" Steamboat at WrestleMania 3 in the Sliverdome in Pontiac, MI. The WWE has named him the greatest Intercontinental champion of all time and credited him for bringing "a higher level of credibility to the title through his amazing in-ring performances.

After that he set his sights on winning the World Heavyweight Championship. In 1988 he captured that title winning a one night tournment at WrestleMania 4 by defeating Ted Dibiase "The Million Dollar Man". Fueding with top notch names such as Hogan, Flair and Ulitmate Warrior, the Macho Man entertained massive crowds throughout the 90's.
4. The Undertaker– 4 time World Heavyweight Champion, 7 time World Tag Team Champion, Royal Rumble Winner(2007), 18-0 Streak at Wrestlmania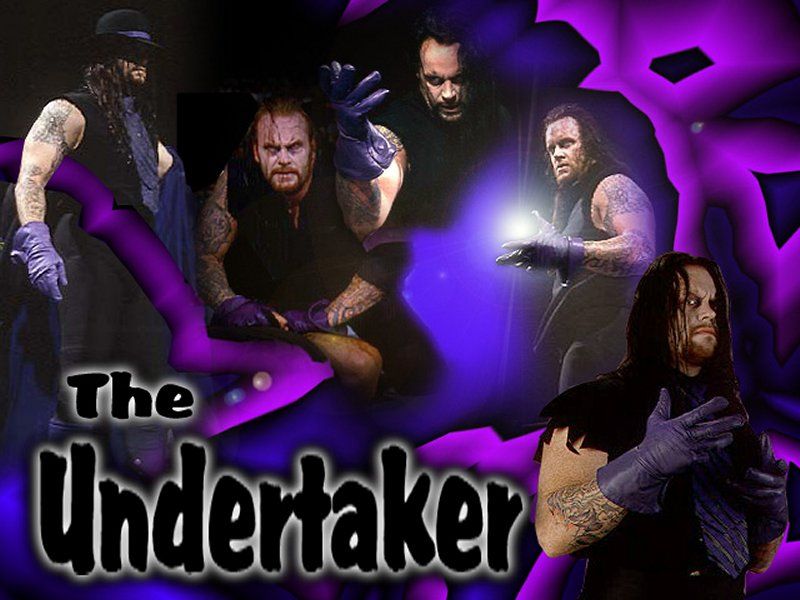 Whether you are talking about the American Badass, The Phenom or the Deadman you are talking about one of the greatest of all time. The Undertaker has been a dominate force in wrestling for over 20 years now. The Deadman has left a lot men resting in peace during that time. Shawn Michaels maybe Mr. Wrestlemania but only one man has the streak. Currently at 18-0 the dead man has never lost on the biggest stage.



He has taken out names like Ric Flair, Shawn Michaels, Triple H and a host of others. My favorite Wrestlemania matches of Takers would have to be him against the Animal Batista and him taking on his brother Kane. Taker has been taking care of business in the WWE since 1990. He maybe the only wrestler still active to be around during the various eras of the WWE. He is only WWE superstar who appeared on the very first RAW and is still on the roster.


3. Stone Cold Steve Austin – 6 time World Heavyweight Champion, 1997,1998 and 2001 Royal Rumble Winner, King of The Ring(1996), WWE Hall of Famer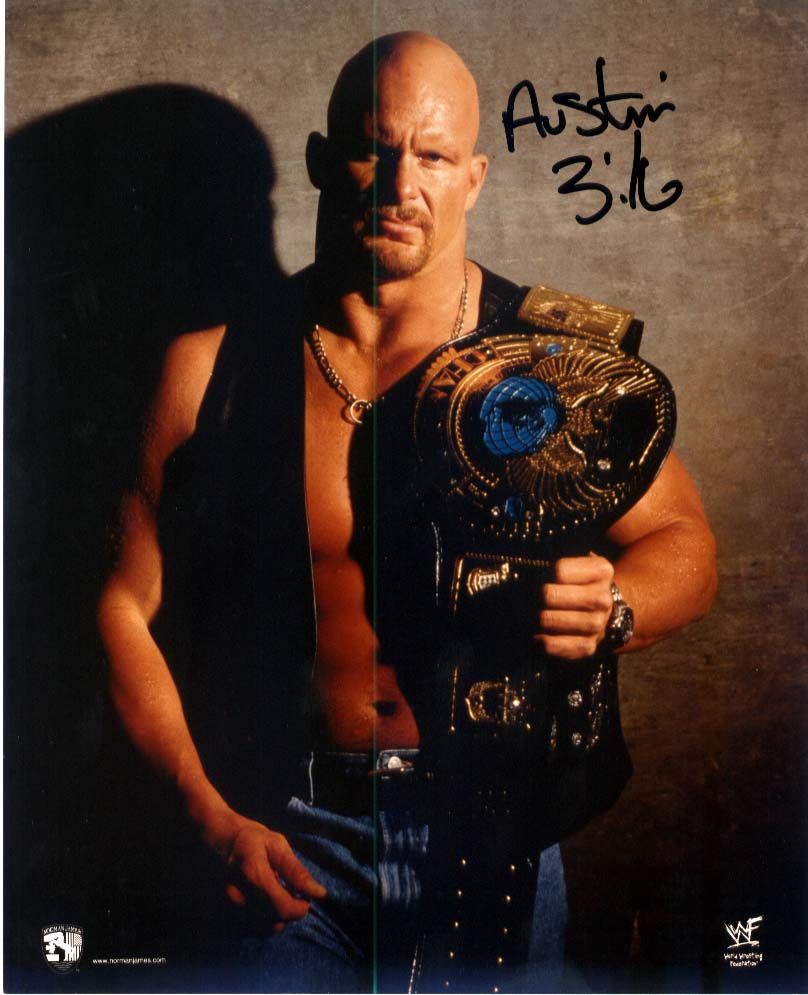 When you think about the Attitude Era in the WWE the first person that comes to mind is Stone Cold Steve Austin. Austin brought to the wrestling world a completely different type of hero.



Getting his big break in WCW as Stunning Steve Austin he was one of the most popular heels in the company. Winning TV title, United States Title and tag team champion with Brian Pillman as the Hollywood Blondes. After a bicep injuy Austin was released by WCW. From there he went on to ECW where he was really allowed to work his promo skills. Seen by the WWE they picked him up and brought him in as the Ringmaster. He was the pretige of Ted Dibiase. Stone Cold achieved his highest popularity in the late 90's when he began a fued with WWE owner Vince McMahon. Not being the cookie cutter hero but a swearing, beer drinking rebel who was not afraid to stand up to his boss. This connected to people like no other wrestler has ever done before. He was the biggest box office success of his era. Hulk Hogan gets alot of credit for building the WWE but Austin definately kept the doors open.
2. Ric Flair – 16 time World Heavyweight Champion, WWE Hall of Famer




The hardest thing about this list was deciding who was going be number 1 and 2. Well Ric Flair is 2 on this list but I am sure he is number 1 on a lot of others. The "Jet flying, limousine riding, kiss stealing, wheeling and dealing son of a gun" is one of the greatest champions of all time.



"To be the man, you gotta beat the man." Nobody did it or said it better than the Nature Boy Ric Flair. The last of the true NWA Champions who traveled the belt around from territory to territory around the world. Flair could have a great match with anybody at anytime. Leader of the most influential faction in professional wrestling history the Four Horsemen. Flair was the their standard bearer. Whether in the NWA, WCW or even the WWE nobody styled and profiled like the Nature Boy. One of the best talkers the business has ever seen Flair easily pack a house with one of his great promos. If you want to measure Flair's impact all you have to do is look at his list. He has played a major part in the careers on almost all of the wrestlers on this or any other all time great list that you will find.
1. Hulk Hogan – World Heavyweight Champion, WWE Hall of Famer




The most iconic wrestler in the history of the business. If you have never watched wrestling you know the name Hulk Hogan. Hulk Hogan has been strong presence in the wrestling business for the last 30 years and is still going strong.



Even I must admit when I was a kid I was a "Hulkamanic" myself. When that music hit and you saw that red and yellow you could not help but get excited. Hogan maybe the biggest box office attraction wrestling has seen. His match with Andre the Giant in 1987 at the Pontiac Silverdome is still the biggest match in the history of professional wrestling. Whether facing the Iron Sheik, The Giant or King Kong Bundy the Hulkster could sell tickets. Also with the begining of Pay Per View, Hogan maybe the first big attraction of that medium.

A testament to the star power of Hulk Hogan is that not only is he the greatest babyface of all time but he performed the greatest heel turn of all time in 1996 when he became Hollywood Hogan in WCW. Which also helped really put a pop in the Monday Night Wars and allow WCW to dominate WWE in the television ratings for 84 consecutive weeks. There will never be another Hulk Hogan….
Honorable Mention

Sting
Eddie Guerrero